Stop The Hospitality!!!
October 1st, 2021
BY IRA KAUFMAN
It's time to hunt.
The NFL schedule maker has come to the rescue of Tampa Bay's beleaguered defense — although you wouldn't know it by the platitudes flying out of One Buc Place. When the Bucs finished talking up New England's offense this week, it was unclear whether they were preparing for Mac Jones or Patrick Mahomes.
Don't believe the chatter.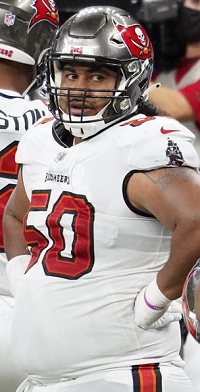 The Patriots are offensively challenged and it didn't help when James White was sidelined by a hip injury that could end his season.
The Buc season is young, but the game plan against the Todd Bowles defense is already an old story — throw, throw and then throw some more.
Opposing teams are passing on 70 percent of their snaps against the Bucs, in large part because running the ball is a lost cause. The Patriots don't have a Dalvin Cook, so expect Mr. Jones to fill the night air with footballs.
Bring it on.
Soothing Stretch
Dak Prescott, Matt Ryan and Matt Stafford took turns strafing a pass defense that appears far too generous. This Southern Hospitality has to stop now, especially considering the quality of the quarterbacks on the horizon.
You couldn't write a better script for an ailing defense.
Tampa Bay's upcoming opponents are the Patriots (Mac Jones), Miami (Jacoby Brissett), Philadelphia (Jalen Hurts) and the Bears, who could have Andy Dalton or Justin Fields under center. As a group, those five quarterbacks have 8 TD passes and 8 interceptions. In sharp contrast, Prescott, Ryan and Stafford have combined for 19 TD passes and 6 interceptions.
This defense should be sailing into November feeling confident. If not, Buc Nation will have every right to be concerned.
Did the Bucs miss Jason Pierre-Paul in Los Angeles? Sure, but you can't expect to have all 22 starters available every week.
And if Shaq Barrett needs JPP's presence to make an impact, he's not worth what the Bucs are paying him.
It's time for Devin White to get off his high horse and make the kind of splash plays Buc fans grew accustomed to down the stretch in 2020, when White looked like the league's best linebacker. He still has to get better in coverage, and in coverage he shall be when White's not
blitzing because most opponents have chosen to abandon the run.
In the pass-happy NFL, you have to be adept through the air. One key metric is average yards per pass attempt, with the Bucs averaging a healthy 7.7 yards.
The eight teams at the bottom — the Bears, Dolphins, Falcons, Jets, Jaguars, Patriots, Saints and Steelers — are a combined 7-18. The eight teams at the top — the Seahawks, Rams, Cardinals, Browns, Bengals, Raiders, Ravens and Broncos — are a combined 20-5.
That's what you call a difference maker.
Reality In The Odds
The opening lines are already out for Week 5 and the Bucs are favored by 9 1-2 points against the Dolphins. There's no good reason Tampa Bay shouldn't be 6-1 steaming into New Orleans for a Halloween matchup against Jameis Winston and company.
Losing to the Rams on the road is no disgrace. That's a very good football team with a confident quarterback. You can't say the same about Tampa Bay's next four opponents.
The Bucs should have a huge edge under center for the next month, so it's a perfect opportunity to fatten up and get this defense rolling.
The first obstacle in the way is Mac Jones, who needs to look like a frazzled rookie Sunday evening in the national spotlight.
In that spirit, Buc Nation has an urgent message for Shaq Barrett: don't be shy. Feel free to introduce yourself often to Mr. Jones, on his way down to the turf.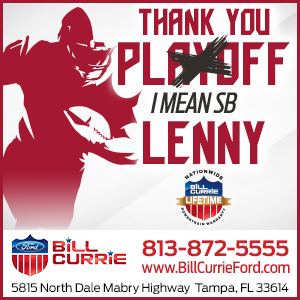 Watch the Bucs Sunday night with Ira! @IKaufman76 @BigStormBrewing Clearwater.
Fun time ahead with A+ food and Florida's very best craft beer. https://t.co/vGcehHQRHu
Gorgeous covered patio or indoors. pic.twitter.com/Skh28hZlfc

— JoeBucsFan (@JoeBucsFan) October 1, 2021