September Love
October 1st, 2021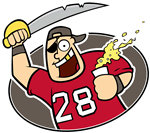 Joe still remembers firing up this site 13 years ago with a fat handful of daily newspapers covering the Bucs like a glove, as well as multiple sports radio stations, national outlets and a popular local, year-round Bucs magazine.
Now there's no daily newspaper in Tampa, local sports radio is a shell of its once proud self, magazines are dead and Joe just popped 2 million+ pages viewed right here for the month of September.
Joe wants to thank Bucs fans for their patronage and continued love — even the haters.