"Into The Wind, A Lot Of Rain"
October 4th, 2021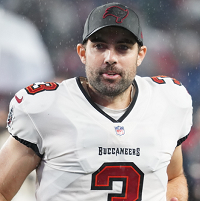 Ryan Succop's postgame quote got Joe thinking on multiple fronts.
Succop's 48-yard, game-winning field goal last night was heroic and made Joe again bless the Bucs world that no longer includes the parade of ugly kickers that helped define the franchise for several seasons.
Succop himself noted the boot was "into the wind, a lot of rain." So that, Joe believes, has to prompt the question, "Why did the Bucs take two home run shots to Antonio Brown before the kick by Succop if the weather conditions were that challenging?
Joe understands "No-risk-it. No biscuit." But there's nothing wrong with a 10-yard completion on 2nd-and-8 or 3rd-and-8 just prior to the two-minute warning.
Of course, on the final shot to Brown, Brady threw a perfect touchdown ball that Brown didn't squeeze in the back of the end zone. A contested catch like that on a wet night is more difficult than usual, which makes the calls more thought-provoking.
The Bucs went for the kill shot twice and Succop bailed them out.
Thank goodness Lavonte David was ready to play hero.
.@Buccaneers #LavonteDavid bats this pass down which might have saved the day for @TomBrady . Lots of great efforts in this epic matchup #BaldysBreakdowns pic.twitter.com/KiimBHORyT

— Brian Baldinger (@BaldyNFL) October 4, 2021