Five Snaps & A Trip To The Doctor
October 31st, 2021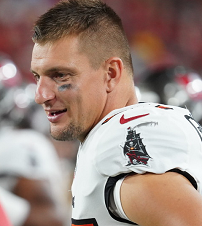 Joe's not a medical professional, but Joe is not really sure why Rob Gronkowski even suited up to play today.
The Bucs have a bye next week and 32-year-old Gronk was coming off busted ribs and limited practice time.
It felt like it was rushing a guy with a history of falling apart physically for no good reason — against a physical Saints team on fake turf. And yeah, Joe referenced all this before the game.
Gronk was on the field today for five snaps before exiting the game with back spasms. Again, Joe is not doctor, but it sort of makes sense that a guy favoring his ribs for weeks might tweak his back if he wasn't 100 percent.
Joe just hopes/prays Gronk is fine and this is all a big nothing. Joe would hate to think of a little Halloween excess being felt in December,