Tom Brady Throwing "Probably Harder"
August 9th, 2021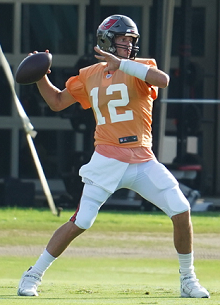 The study of Tom Brady is an evolving joy for so many ex-quarterbacks.
He's defied science and history and has made believers out of every remaining skeptic.
Former Super Bowl QB Phil Simms has always been in Brady's corner, though he admitted on CBS Sports Radio last week that he believed Brady was a little crazy years ago when he talked about playing at 45 years old.
Simms' study of Brady last year, he said, revealed a quarterback who was trying not to get hit yet still was delivering tremendous fastballs.
"But the thing about him, you know, he's still willing. And the throwing arm, he's Nolan Ryan," Simms said, referring to the legendary pitcher who led Major League Baseball in strikeouts four times.

"[Brady] can still throw it as hard now as he did early in his career, probably harder. And of course we Nolan Ryan was throwing in the mid-90s even when he was 44 or 45. … He was an angry pitcher. … Tom Brady is the same way. He loves really letting the ball go, throwing as hard as he can, which comes in handy a lot of times in the NFL."
Joe can't really imagine how much better Brady might be on a healthy knee this season. Did it really affect his play last year? That's unclear.
But Joe feels great about hearing another QB guru talking about Brady's fastball looking as good or better than ever. Remember, former Falcons offensive coordinator and Bucs head coach Dirk Koetter marveled at Brady's improved velocity early this year.