Dirk Koetter Assesses Tom Brady Improvement, Talks Bucs' Super Bowl Difference & Emotion
July 9th, 2021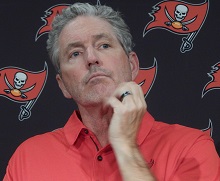 A former round-the-clock reader of this here website, former Buccaneers head coach Dirk Koetter, is a quite an authority when it comes to the Bucs and quarterbacks.
He faced Tampa Bay as Falcons offensive coordinator the past two years after being fired by Team Glazer. And Koetter, a former college quarterback himself, was always known as a bit of a QB guru during his many years of NFL coaching.
Joe stashed Koetter's takes from Idaho sports radio 93.1 FM since Super Bowl week. And today seems like a great day to share.
First, Koetter was clear that he saw a stronger version of Tom Brady in 2021.
"You know, one thing, we played them the last game of the year. And just watching him in warmups and watching him from the press box in the game, I thought he had more velocity on the ball than I remember from [playing against him] in other years," Koetter said. "It's hard to believe he's 43."
As for the Bucs, Koetter was eager to gush about their defense. And while he didn't pick a Super Bowl winner, he said multiple times that fans should watch out for the underrated Bucs defense as the key to the game.
"I think the thing that gets overlooked about Tampa is how good their defense is," Koetter said. "Those two edge rushers, there's just not too many teams in the league that have a guy on both edges that can rush like that. And then they got Vita Vea back … they got two great inside linebackers in [Devin] White and Lavonte David. … The one rookie kid, Winfield, is probably going to be runner-up for Defensive Rookie of the Year."
Koetter is retired now and back in his home state of Idaho.
He also shared that watching the Bucs get to the Super Bowl wasn't just another day. "It was a little bit emotional, I'm not going to lie," Koetter said, noting how he cares deeply for many in the Tampa Bay organization.
Koetter put Mike Evans and Lavonte David atop that list.