Camp Cupcake Day 20 Practice Notes
August 19th, 2021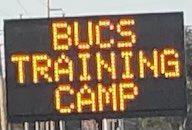 Yeah, there were fights today. Lots of them. There were also excellent plays made by both teams. Some quality athleticism out there today at One Buc Palace.
The highlights:
* Chris Godwin catches a Tom Brady pass in the far right corner for a touchdown — one-handed.
* Brady tries to go to Antonio Brown but Chris Jackson is all over him with good coverage. Incomplete.
* Brady tries to go to Godwin over the middle but
Kristian Fulton gets a hand on the pass.
* Mike Evans catches a pass from Brady beating Caleb Farley.
* The Brown-Jackson hassle happens.
* During one-on-one drills, Titans receiver Fred Brown shows some quicks as he shakes Carlton Davis and Sean Murphy-Bunting on a couple of short routes.
* Brady to Rob Gronkowski down the left sideline. Crowd roars. Gronk has only been around for a year and already he's a fan favorite.
* Brady threads the needle between two Titans defenders to get a pass down the left seams to Tyler Johnson.
* Ke'Shawn Vaughn up the middle but there's no room to run.
* That skid mark on the grass is what is left from Caleb Farley trying to guard Gronk. Brady throws to his long-time pal for a touchdown.
* Evans hauls in a deep pass from Brady along the right sideline for a score.
Bucs Defense 7-on-7
* Pick! Mike Edwards intercepts Ryan Tannehill. The way Edwards has played this training camp, if he isn't careful he may just find himself as a starter.
* Tannehill waits and waits and waits and finally decides to roll out to the right and dumps off to Tory Carter in the right flat in front of K.J. Britt.
* Racey McMath finds an opening over the middle and Tannehill hits him right in front of Edwards.
* Fred Brown catches a Tannehill pass in almost the exact same spot. Edwards had good coverage on him and Joe thought Edwards had a pick but the ball found its way into Brown's hands.
* Playing from the left side, Joe Tryon blows past Titans blockers and races to Matt Barkley. Had there been normal hitting, Barkley would have been plastered.
Bucs red zone!
* Brady to Gronk left side.
* Brady to Brown deep, but the ball is off Brown's hands. He had shook off a defender and gotten behind the defense down the right seam.
* On a crossing pattern from right to left, Brady connects short with Giovani Bernard and he turns it up-field and races for six.
* Brady tries to hit Godwin in the back of the end zone, Godwin cannot quite come up with it.
* Brady to Playoff Lenny who runs to the goal line. Joe cannot tell if Playoff Lenny was out of bounds as he neared the right front pylon or not.
Bucs defense
* Tannehill completes a pass to Nick Westbrook-Ikhine along the left sideline. Carlton Davis had coverage.
* Westbrook-Ikhine catches another pass from Tannehill, this time up the middle.
* Hey, it's Luke Stocker! The former Bucs tight end, drafted by former rock star general manager Mark Dominik in 2011 is still around and playing for the Titans. He catches a pass going up against Carlton Davis up the right seam.
* Tannehill completes a pass over the middle despite Devin White getting a hand on the ball. White is not happy. Joe could hear White grunt standing 100 yards away.
* Stocker catches another pass from Tannehill, this time short and underneath.