Camp Observations
August 19th, 2021
BY IRA KAUFMAN
That's a wrap.
The defending Super Bowl champs finished up an uneventful fourth week of training camp Thursday with a feisty scrimmage against the Titans. After 20 days of work at One Buc Place, Tampa Bay is relatively healthy.
That's why Jason Licht is smiling heading into the second preseason matchup. The way Licht sees it, any practice without injuries is a heck of a practice.
Safety Jordan Whitehead has been sidelined and some of Tampa Bay's reserve offensive linemen are dinged up, but Bruce Arians isn't tossing and turning at night because reserve guard Sadarius Hutcherson is out with a knee injury.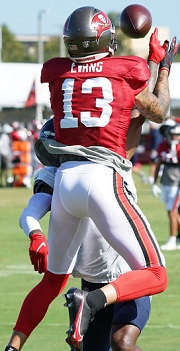 Staying healthy is the No. 1 concern for any team during training camp. Three weeks before the season opener against Dallas, Tampa Bay's most impactful players — Tom Brady, Mike Evans, Chris Godwin, Rob Gronkowski, Donovan Smith, Tristan Wirfs, Vita Vea, Shaq Barrett, Jason Pierre-Paul, Devin White, Lavonte David and Carlton Davis – are ready to go.
What more could you ask for?
Arians, who has dropped 25 pounds since last season, loved the two scrimmages against the Titans. Tennessee is a quality team and the Bucs were able to work on designed situational football drills.
Brady wasn't happy with Wednesday's sloppy scrimmage. He can live with a few dropped balls, but mental errors burrow under his skin.
The Bucs bounced back Thursday with a sharper focus — led by their most impressive player in camp.
Since the opening practice on July 25, Mike Evans has looked sensational. Instead of resting on his laurels, Evans is wearing out defensive backs of every stripe. On a team stacked with targets, he's the No. 1 receiver for a reason.
Here's some other observations from Camp Buccaneer:
* If Ryan Succop was a rookie free agent kicker instead of a reliable veteran, he might very well be on the chopping block. It has not been a good three weeks for Succop, but he earned the confidence of Arians, Licht and Brady last season. And given Tampa Bay's madcap 11-year search for someone to split the uprights on a regular basis, Succop will be given every chance to work out the kinks when the games count.
* Not a day goes by without a teammate lauding the skills of Joe Tryon. If Tryon's the real deal and Vea remains healthy, this pass rush could lead the NFL in sacks. But let's remember this rookie out of Washington has yet to play a regular-season game. Let's see how he fares against Tyron Smith, the 7-time Pro Bowl left tackle of the Cowboys, before we crown Tryon the next Von Miller.
* There was an emotional moment just before the start of Wednesday's practice as Licht and Titans GM Jon Robinson embraced on the sidelines. Robinson impressed Licht during their time together in New England's scouting department and when Licht arrived as Bucs GM in 2014, he hired Robinson as director of player personnel. While Robinson congratulated Licht on Tampa Bay's majestic 2020 season, Licht returned the favor, applauding Robinson for turning Tennessee into an AFC power.
The Titans were 5-27 in the two years before Robinson took over from former Bucs executive Ruston Webster. Tennessee is 47-33 with Robinson calling the shots in Nashville since 2016, reeling off five consecutive winning seasons.
* It was nice to see fans in the bleachers after a one-year absence, but the Bucs did their rank-and-file supporters a disservice by catering exclusively to season pass members. Nobody is asking the Bucs to ignore the patrons who put up the hard cash, but what about the die-hards? The fans who showed up at Raymond James Stadium through a lot of bad football deserved a chance to see Brady and company up close and personal, too. On many days, there were enough empty seats in the stands to accommodate hundreds of loyal supporters who can't afford season tickets.
Brady can't play forever and there's no guarantee this championship window will be open for long. Let's not forget the common folk who spun through the turnstiles on Sunday afternoons while this franchise was spinning its wheels.