Fight!
August 19th, 2021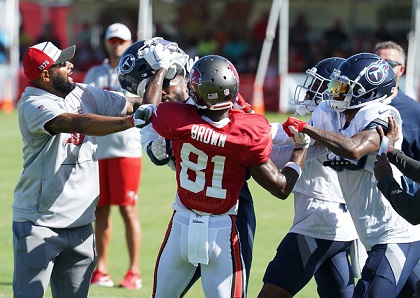 What a morning at One Buc Palace!
Tempers are flaring everywhere, even Buccaneers savior linebacker Devin White got into it with former Bucs flop running back Jeremy "Snoop Dogg McPlaybook" McNichols, who backs up Derrick Henry for the Titans.
Tennessee is in town for Day 2 of practicing against the Bucs before they square off in a preseason game Saturday night.
The feature fight was Antonio Brown against Titans DB Chris Jackson.
Another Titans safety Clayton Geathers was covering Brown down the left sideline and clearly pulling Brown's jersey, a real mugging.
An official standing in end zone was barking about the penalty and found the Titans' DB to be inexplicably blaming Brown. "He put his hand in my face. He was holding me the whole time," Joe heard.
Brown and Jackson got into it and Brown ripped off Jackson's helmet before lefts and rights came raining down. Bucs assistant coach Louis Murphy, the former Bucs receiver, was among those trying to break up the action.
Brown went into the building and then he returned in about 20 minutes.
Later, both benches emptied with a nothing-crazy fight after cornerback Herb Miller tangled with a Titans gunner on punt return.
All this fun made Joe want to punch somebody and/or pound a Big Storm beer.
Additionally, Devin White and Titans recover Cam Batson got into a fight and SnoopDog McPlaybook was the third guy into the match.
In total, there four fights in practice today (the third of four wasn't much before it was broken up when both teams quickly converged on the scrum).