The Belichick Way Of Motivating After A Great Season
July 12th, 2021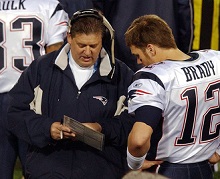 One of Tom Brady's good buddies was talking about entering a football season as a top-dog champion looking to repeat.
Former Patriots offensive coordinator Charlie Weis has been there before, calling plays for Tom Brady's first three Super Bowl seasons (2001, 2003 & 2004).
Now an analyst (with little filter) on SiriusXM NFL Radio, Weis had to laugh today while talking about Bucco Bruce Arians' recent comments about the Bucs needing to stay "the hunter" versus being "the hunted."
"Let's face it, you know, the comment's a joke. No disrespect to Bruce, but I mean you're on the top of the pedestal. Everyone is shooting for you. You know that. So we know what reality is. We'll cut through that to start off with," Weis bellowed. "But let me exchange it into a phrase that [Bill] Belichick would use. Belichick would always try to find a way to play the disrespect card. 'They don't think you're any good. They don't think you can do it. They thought that last year was a fluke; you're a one-hit wonder.'"
Weis went on to say Arians could easily spin "stay the hunter" into getting the Bucs believing they has a lot to prove to the media and beyond.
"We were always playing the underdog or disrespect card. Always, every opportunity you could," Weis said of his years in New England.
Try to find every mental angle you can, Weis implored, noting quotes from opposing players and coaches were popular talking points all week long in a Belicheat locker room.
Weis thinks Arians needs to go that route because Arians' claim of running a brutal training camp is another joke. "Powder puff" football is the only way to describe August practices nowadays versus when Brady or Ndamukong Suh entered the league, according to Weis.
Interesting thoughts by Weis, who is confident Brady will bring the right brand of leadership and motivation in the face of being the runaway favorite in the NFC. Joe thinks Arians will find the right touch, as well.