Bruce Arians: "I'm Going To Beat The Sh*t Out Of Them
March 27th, 2021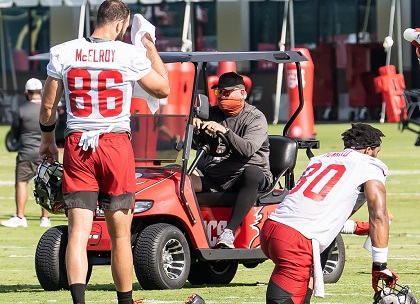 The message is clear from the Buccaneers head coach; nothing about this summer for the Bucs will be soft and easy.
Bucco Bruce Arians knows what it's like to attempt to repeat as a Super Bowl champ. It's a brutal task. And it appears a lesson he learned during his Steelers days was that a champion needs to grind extra hard when it returns to work.
"When our guys come back, and that's my job, I'm going to beat the sh*t out of them," Arians told The Loose Cannons show on YouTube last night. "We're going back to basics and we're going to have one hell of a training camp and know what our foundation is."
And Arians seemed awfully excited about a normal training camp experience, repeating that he thrives on being in players' faces and that he got through the entire 2020 season without doing a virtual meeting.
Joe loves the message that's being sent. And Joe believes it's very calculated — even if Arians ends up going a little easy on his many veterans later in August.