Bruce Arians: Bucs Must "Stay The Hunter"
July 9th, 2021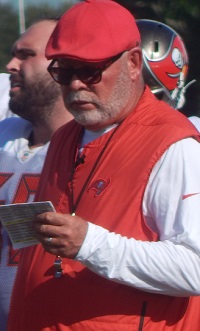 Joe laughs when people say the Bucs are going to be "the hunted" this season.
Every defense last year was jacked up to face Tom Brady and the Buccaneers' dream team on offense.
Every opposing quarterback was hungry to beat Brady, as well, just the way it's been for years.
So who exactly wasn't "hunting" the Bucs last season?
But what Joe does take seriously is the Bucs maintaining their fire after winning a Super Bowl and injecting so little new blood into their 2021 roster — and the coaching staff.
Bucco Bruce Arians has that on his mind, so he told Buccaneers.com in a feature released today.
"I think for me I'm going to have to be harder; make sure that we stay the hunter and not the hunted," Arians said. "We've relaxed a lot already this spring. Teams are getting ahead of us right now but I think we can catch up quickly."
Apparently, the interview was taped just before mandatory minicamp in June and a few months after Arians said, "I'm going to beat the sh*t out of them," referring to how hard he plans to make 2021 training camp.
Joe doubts Arians will end up being especially hard on his roster this summer, although that is the clear message.
Arians admitted in the Buccaneers.com video that he regretted being too hard on his Cardinals team after they lost in the NFC title game because that led to many injuries the following season.
On the mental front, Arians said his 2021 summer goal is simple: "Make sure this year's team doesn't think they're last year's team."