Tampa Gets Bad Ranking As NFL Game Destination
July 12th, 2021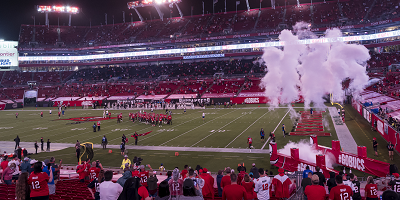 Why put valuable time into crafting a list for fans when it's so misguided?
Longtime Boston Globe NFL/Patriots writer Ben Volin did just that in an exercise that ranked the best-to-worst destinations for traveling NFL fans.
The home of our beloved Buccaneers landed in the bottom half of the league, wedged between Cleveland (No. 16) and Jacksonville (No. 18).
17. Tampa: Everything is spread out, it's a lot of strip malls and chain stores, and traffic in and out of the stadium can be a pain. But, it's Florida. The Gulf is beautiful, Bern's cooks a mean steak, and Buccaneers tickets aren't too hard to come by.
How Buffalo (No. 5) and Arizona (N0. 14) were ahead of the Tampa Bay's home turf is hard to fathom. Joe's seen the Bucs in both locations. And there's so much more to Tampa than a steakhouse and strip malls.
Joe has a firm hunch that The Licht House will be buzzing all season, tickets will be hard find, and most intelligent visiting fans in for the Bills-Bucs game won't want to move back home.
---
Sibley Dolman Gipe Accident Injury Lawyers serve auto accident victims in Boca Raton and Palm Beach County.
Before you select a Boca Raton car accident lawyer, there is much to consider.
See the alarming data on crashes around Boca Raton via the DolmanLaw.com link above, and get the education you need to make a wise next move.