Bucs QB Coach "Thought Everyone Knew" About Tom Brady's Torn MCL
July 31st, 2021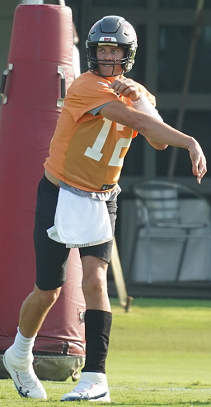 So when did Bucs officials know that Tom Brady's knee was all messed up and would require surgery?
Joe can't answer that question exactly. Brady said he was dealing with the bad knee since "April, May" of 2020. But Brady has said publicly that 90 percent of what he says to football media is less than honest.
Perhaps QB Coach Clyde Christensen shed light on the truth during his visit to CBS Sports Radio this week.
Christensen was asked about the report of Brady playing all last season with a blown MCL.
"It kind of surprised me; I thought everyone knew [about Brady's torn MCL]," Christensen said. "When I first met him, he said, 'Hey, my knee's not 100 percent but with the tape job and stuff I'll make it through the season and after the season we'll get'er fixed up.' … He really does have a unique understanding of his body and competing and what it takes, etc., and can manage it.

"He kind of managed it. We tried to be smart. … We really didn't modify much. We rested him like we would any veteran player at certain opportunities during the season."
Brady's knee is not 100 percent yet, Christensen added, "but I think he's headed toward it."
So when did Christensen first meet Brady and learn of the bad knee? Was he talking virtually or in person?
None of this matters now, but Joe is starting to wonder if the Patriots knew of Brady's injury.
As for the drive within Brady, Christensen said his passion for the game is unmatched. "He tells me 20 times a week. 'I love what I do,' Christensen said, adding that Brady loves practice, meetings and everything football.