Antonio Brown "Is 100 Miles Per Hour"
July 31st, 2021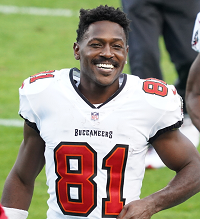 Antonio Brown is not the fastest receiver on the Bucs. That honor goes to Scotty Miller.
However, Brown's truly elite gear is measured very differently.
Joe's talking about practice. Actually, it was Bucs QB coach Clyde Christensen talking about Brown practicing. He explained to CBS Sports Radio that Brown is so impactful and revved up at practice that he impacts the entire roster.
 "He gave us a jolt last year. He gave us a little energy surge, if you will" Christensen said of Brown. "He provides it seven days a week, too,

"When he hits the football field, he's unique. …The way this guy practices, once he hits those stripes, it's on. You know, he is 100 miles an hour. So I think he helped us in every way, practice-wise as well as production-wise come Sunday … He raises the tempo of practice. He raises the tempo of how we do things."
Brown's reputation as a high-energy practice freak preceded his arrival in Tampa. That's why Chucky signed him to play in Oakland.
Chucky had stated that watching Brown practice during his BSPN broadcast days was intoxicating and he had never seen a harder worker.
The Bucs' "jolt" from Brown last year, the one Christensen referenced, was about arriving in midseason, Joe believes. He added a spark and Joe has heard stories of defensive players gravitating to Brown to study his pre-practice workouts and warmups.
Christensen placed Brown in the big bucket of Bucs that were not 100 percent healthy last year. \
He added that Brown is "humming" in practice already following offseason knee surgery and his looking "really, really good."