Tom Brady Said He Was Dealing With Knee Injury "Since Last April, May" Of 2020
June 9th, 2021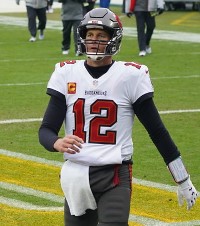 Tom Brady shed more light on his surgically repaired knee today after practice.
Brady said he doesn't like to talk about his injuries, but he did reveal some intriguing nuggets.
His necessary surgery, which Brady did not describe, was done 15 weeks ago and has been highly successful, he said.
"I'll be able to do some different things this year that I wasn't able to do last year," Brady said.
Most interestingly, Brady said he was dealing with the injury "since last April, May." The implication was that Brady knew the knee had to be surgically fixed within weeks of joining the Buccaneers.
When Joe heard that, the first thing Joe thought was, "and they still went with Blaine Gabbert as Brady's backup." That's a great indication of just how much Bucco Bruce Arians thinks of Gabbert.
Regardless, Brady feels he's fully healthy, and he's still human. So there's a great chance he'll be playing with more confidence.