Bucs Concerned About Kyle Trask & "Coast Mode"
July 30th, 2021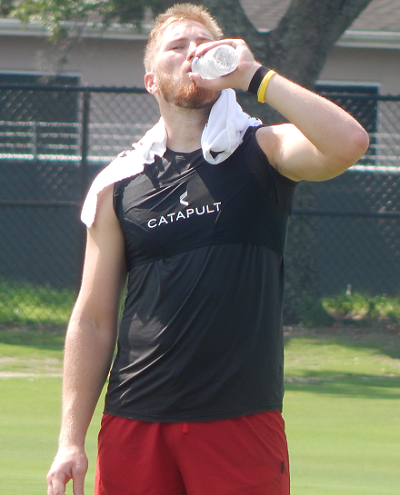 It sounds like Gators fans or anyone else should accept that Kyle Trask is far down the Bucs' quarterback depth chart and there's little expectation for him to climb this season.
Who is a better source on Tampa Bay quarterbacks than Buccaneers QB coach Clyde Christensen? He was chatting with CBS Sports Radio this week and addressed the subject of Trask, the Bucs' 2021 second-round pick.
Christensen referred to Trask as the No. 4 quarterback and explained that the Bucs will have a job on their hands to keep Trask supremely focused and developing.
"He's been hungry," Christensen said of Trask. "You know, we try to get our little extra sessions, him and I. That'll be a challenge all season. How do we make sure that he develops? How do we make sure that we pour some time into him?

"And that'll take some creativity and some effort on everybody's part. You know, where he doesn't go into redshirt mode and coast mode knowing that. 'Hey, maybe my number's not coming up this year.'

"'A,' you never know that and 'B' he has to progress this year. That'll be a challenge for everyone."
That sure doesn't sound like a rookie QB ready to challenge for a backup job and perhaps, given ongoing virus concerns, the Bucs will keep four quarterbacks on the roster. Veteran Ryan Griffin is the current No. 3.
Perhaps more likely, as was discussed on the Ira Kaufman Podcast, is a mysterious injury conveniently landing Trask on injured reserve in late August.
No, Joe is not down on Trask. Don't read between the lines.