Antonio Brown Arriving For Bucs OTAs, Signing Contract?
May 24th, 2021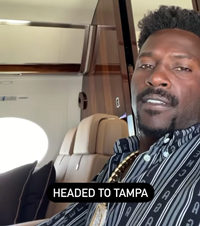 So last week Bucs AC/DC-loving general manager Jason Licht told prized JoeBucsFan.com columnist Ira Kaufman that furniture-tossing, bicycle-throwing receiver Antonio Brown was expected to arrive to One Buc Palace on Monday to sign his contract.
Last week Brown had knee surgery and there were published reports that he couldn't pass his physical. Licht seemed to throw cold water on the notion he didn't sign his contract because of not passing a physical. Licht added he had "no concern" Brown would be with the Bucs in 2021.
Well, Monday is almost gone and no news about Brown… except on his Instagram stories feed at about 2:30 p.m. today.
Brown, wearing a dress shirt, posted a short video with the caption "HEADED TO TAMPA" on the screen as it appears Brown is on a private jet. He showed that indeed he is in the air from the video showing the ground below outside his window.
Well now, today is the day Licht said Brown would sign his contract at One Buc Palace. And voluntary OTAs are also this week.
If you think Brown may be coming to Tampa just for dinner, also on his Instagram stories feed just before his flight video, Brown posted a photo of his son wearing Brown's Bucs No. 81 jersey — the adult size — and on the photo Brown stamped a love emoji face.
That seems to suggest Brown likes his son wearing his Bucs gear.