"I Haven't Been Voted A Seven-Time Captain For Nothing"
May 24th, 2021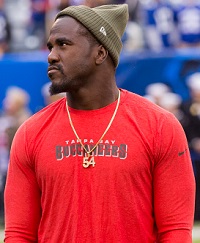 It's awesome to think about where Lavonte David, entering his 10th Tampa Bay season, fits into the landscape of Buccaneer greats.
He's a lock for the Buccaneers Ring of Honor. (Yes, before Gerald McCoy is ever considered.) And David is eager to cement himself as a truly iconic Bucs player and ambassador.
Ryan Mayer of CBS Sports asked David about his remaining goals and David did not hesitate to share how he's eager on multiple fronts and appreciates those who have appreciated him for years.
"I just want to continue to be dominant in my play, continue to give back to the community in Tampa, and just continue to be the leader they expect me to be. I haven't been voted a seven-time captain for nothing. You know, I must be doing something right," David said.

"I'm going to keep on trying to do that, keep on being a light to the younger players that come around. You know, being that extra ear, being somebody who they can talk to outside of football, talk about life. Just continue to be a dominant football player in the Tampa community.

"I always say I look up to Derrick Brooks and what he did for Tampa on and off the field. He he laid the way, and I'm just trying to follow that way, man. You know I'm very, very thankful for the organization believing in me. And I'm definitely trying to hopefully one day retire as a Buccaneer."
With two years of guaranteed cash on his fat new contract, David will log at least 11 seasons in pewter and red, more than Warren Sapp and as many as John Lynch. David also is likely to be one of the fastest men in NFL history to get to the 1,000-tackle mark, a rare feat itself.
Man, Joe would love to see David have a standout 2021 season and get all the accolades he deserves.