Why Wouldn't Brady Play?
March 5th, 2021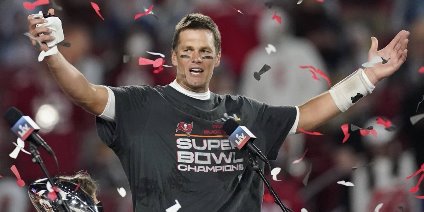 Just in case anyone was curious about next season, while covered in confetti in the House That Sapp Built, "Yeah, I'm coming back" was the answer to Jim Nantz's question to park-violating, home-invading, NFLPA-ignoring, down-forgetting, handshake-stiffing, jet-ski-losing, biscuit-baking, tequila-shooting, waffle-grilling, trophy-throwing, Bucs Super Bowl-winning quarterback Tom Brady.
(Joe guesses this irked Mrs. Brady.)
And why wouldn't Brady want to play ball in Tampa? Let's assume the Bucs keep free agent receiver Chris Godwin (Joe's fingers are crossed). That gives Brady and the Bucs two of the most dangerous weapons in the NFL.
Brady made no secret, when Bucs AC/DC-loving general manager Jason Licht first sweet-talked the legend to come to Tampa Bay, that Licht made the smart phone call. Brady and his people knew what the Bucs had to offer.
Consider this tweet from @NFL_Stats:
WRs with 7+ receiving TDs in each of the last 3 seasons…

• Mike Evans
• Chris Godwin
• Tyreek Hill
• Tyler Lockett
• Calvin Ridley pic.twitter.com/IfOYbaBQjR

— NFL Stats (@NFL_Stats) March 2, 2021
Then throw in furniture-tossing, bicycle-throwing receiver Antonio Brown. Before he went mental two years ago, Brown wasn't just thought of as a good receiver. He was elite and headed to the Pro Football Hall of Fame.
And then he lost his damn mind.
The above stat doesn't even factor in the tight ends.
Why would Brady retire? Shoot, with weapons like the Bucs have, Roger Staubach might have come out of retirement to throw to those guys.