Tom Brady Suggests He Has Seen Extraterrestrial Beings
March 5th, 2021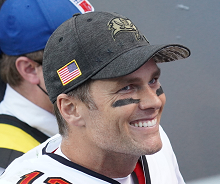 Joe is a firm believer in unexplained and/or paranormal phenomena.
After all, Joe witnessed all the power hitters in a new regime at One Buc Palace sign off on Josh McCown as starting quarterback — in March of 2014.
What else other than green aliens from other planets could be at the core of such a happening?
Hell, the guy was 16-22 as a starter at 35 years old joining his sixth team.
Fast-forward to 2021 and cue The X-Files theme music; bizarre officially has defined the Buccaneers over the last 12 seasons. Tom Brady walked through the door, three NFL stars followed, and the Bucs won a Super Bowl at home during a pandemic.
So it did not surprise Joe at all that Brady himself suggested last night he has encountered life forms from other galaxies.
Yesterday, FOX Sports blabbermouth Colin Cowherd reacted sarcastically to Browns QB Baker Mayfield sharing that he and his wife recently saw a UFO fall from the Texas sky. And that drew the reply from Brady seen below:
How do you know I've never seen aliens Colin? https://t.co/j4ycqKQdDV

— Tom Brady (@TomBrady) March 4, 2021
Joe's not sure what to make of Brady's comment, given how 43-year-old Brady is a superhuman athlete who routinely defies all earthly norms. Is he really from California?
At this point, if Brady went out for a jet-ski ride on Hillsborough Bay, mysteriously disappeared for a year and was found naked and healthy at Devin White's Louisiana barn, Joe would not be surprised.