Kevin Minter Talks Tom Brady, Jameis Winston, Minter's New Contract & More
March 12th, 2021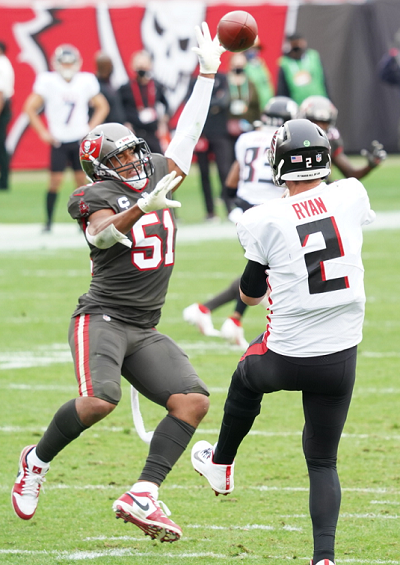 Big day today for Bucs backup linebacker Kevin Minter, who just inked a new one-year deal to return to Tampa Bay for his ninth NFL season.
Minter spoke on KGME-AM in Phoenix and Joe was taking notes while cradling a Wavemaker Amber Ale from Big Storm Brewing Co.
*On Tom Brady, Minter says there are many misconceptions. "He's laughing and joking … he just wants to be one of the guys."
*Some players were apologizing during the Super Bowl boat parade because they regretted being skeptical of whether a boat parade would be any fun.
*On his brand new contract, Minter said his agent got things done quickly after a lot of back and forth. Interestingly, he said of the Bucs' front office. "The people upstairs, they want everyone back. You know, they are really pushing this year to try to get everybody signed early."
*"Day 1," Minter said of when he knew the 2020 Bucs would be great. No surprise, that Minter said his feeling was all about the intensity of Tom Brady and how he brought that out of the rest of the offense. "Even the huddle break at the first practice. It was just, 'Break!!!'"… We loved Jameis. Love Jameis. We had him for a couple of years. He was a great guy. But when I say it was a night-and-day difference, we knew we had a real shot with this guy [Brady]."
*Minter laughed and said The Brady Effect on defense is very much about not wanting to "fu** up" with Brady watching because he carries that much influence and is so deadly serious about winning.
*After "stupid" Bucs losses early this season, Minter noted that "No. 12 was the calmest guy in the room, always. He was like, 'Don't worry. We'll turn it on.'"
*Minter shared how he was hammered for Super Bowl tickets by people he knows — and by people he doesn't know very well. He joked about how he doesn't have the pull people think he has.
*On how special the Super Bowl win was, "You didn't just win the game; you wupped their ass."