"Downright Beautiful"
March 12th, 2021
BY IRA KAUFMAN
Nobody's perfect, yet Tom Brady is the perfect Buccaneer.
Before he fits another Super Bowl ring on his finger, he's already thinking about the next piece of jewelry. On Friday, he freed up a ton of cap space for a franchise hell bent on repeating.
Tampa Bay restructured Brady's contract and you'd be hard pressed to figure out whether it was Brady or the Bucs who initiated the conversation.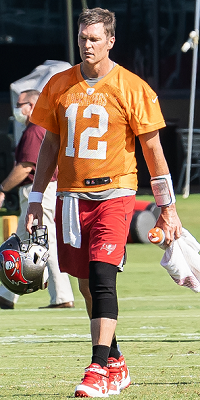 Bruce Arians, the quarterback whisperer, should be shouting from the rooftops.
This is what Brady does. He helped keep New England's dynasty going with his play on the field and his willingness to play ball at the negotiating table. Now the Bucs are benefiting from Brady's team-first approach.
In 1981, after leading the Eagles to the Super Bowl, Ron Jaworski became the NFL's highest-paid player when he signed for $400,000.
That's $1.2 million in today's dollars, or a fraction of what Dak Prescott just received from the Cowboys.
Prescott, who has one career playoff win on his resume, will make substantially more than Mr. Brady this fall. Is that fair? Of course not.
For Buc fans, it's downright beautiful.
Nobody has watched No. 12 more closely over the years than Jaworski, a former analyst on Monday Night Football and now a successful golf executive in the Northeast.
"The heartbeat of a football team is the quarterback," Jaworski says. "Guys in Tampa saw that first hand this year. You are the face of a football team, the face of a city and the face of an organization. Tom Brady can will a team to victory. He's an incredible leader and he's smart. What he did this year in Tampa is absolutely mind-boggling to me."
You can make a credible argument that Brady had more of an impact on this franchise off the field than on it. That sounds ludicrous when you realize Brady threw 22 TD passes and only four picks during Tampa Bay's 8-game winning streak after the bye week.
But the Brady Effect had transformed this franchise well before that wondrous closing stretch. His attention to detail and camaraderie with teammates lifted everyone's game. And the fact Brady did all this during a season like no other made it all the more remarkable.
"This was a pandemic year," says Jaworski. "There was no coordination between quarterbacks and receivers — unless you went to the park down the street. There were no preseason games. "From where he was in Week 1 to his Super Bowl performance was magnificent. He got better every week.

"Sure, there were bumps in the road, but I saw Tom working through the challenges. The team evolved and in the last quarter of the season, they were playing great football."
Brady wants his band back together and let there be no doubt about the identity of the front man. If Brady wants Antonio Brown back, the Bucs will give it their best shot.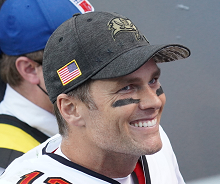 If he wants to throw passes to free agent running back James White, Jason Licht will try his best to make it happen.
According to Jaworski, Brady is still motivated by the 2000 draft, when the Patriots selected him out of Michigan with the 199th pick. But what really drives this guy is an insatiable desire to win.
That's the whole of it. That's all that matters.
Whether he throws 45 passes or hands it off 45 times, Brady embraces any game plan that leads to victory. Arians thought he had seen it all with the great quarterbacks he has worked with, but Brady stands apart. The impact of his selfless approach cannot be overestimated.
A Hall of Fame coach once said, "Perfection is not attainable, but if we chase perfection, we can catch excellence."
Unfortunately, Vince Lombardi never got to see Tom Brady, the perfect Buccaneer.