Bruce Arians Says Jameis Needs "A Legitimate Team"
August 26th, 2019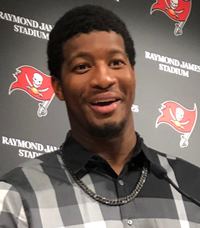 Bucco Bruce Arians has delivered a solid amount of hyperbole for fans and media since taking over Tampa Bay.
And he was slinging it high and hard last week during an interview with WFLA-TV.

Joe's really having trouble digesting it at this point. Man, it will be so darn wonderful when real games arrive.
Arians spoke about America's Quarterback, Jameis Winston, on the Bucs-Browns broadcast and suggested Jameis has been held back because he has never played on a solid football team and has been asked too often to throw 45-plus times a game.
"I think the proof's still in the pudding for [Jameis] as far as being a legitimate team with a defense a running game, not playing from behind, having to throw the ball 45 to 50 times to win a game," Arians said. "And when you're doing that you're saying, 'You got to win the game.' No, just play quarterback. Let's put a team around you, just let you play quarterback."
Joe's not sure why Arians puts this stuff out there. Does he really believe it?
Jameis has attempted 40 passes or more in 13 of his 54 starts (24 percent) while Carson Palmer, Arians' revered starter in Arizona, hurled 40 or more passes 24 times in 60 regular-season starts (40 percent) during his time in Arizona. Palmer was 10-13-1 in those games. Jameis was 2-10.
Are we to believe a legitimate team doesn't ask its quarterback to carry the offense several times a year? C'mon, Coach.
Patrick Mahomes threw 40 or more times in 25 percent of his starts last year. Matt Ryan was slingin' it in 37 percent of games. Dak Prescott even won two games last year passing 54 and 44 times, respectively. Arians' old friend Ben Roethlisberger, Joe Flacco and Andrew Luck each averaged 40 passes or more per game last year, and all their teams had winning records.
Yes, a better Bucs team around Jameis should help Jameis. But let's stop pretending he's not going to have to perform under a lot of pressure and carry the team at times for the Bucs to have a winning season.