Interesting Responses To Tom Brady's New Contract
March 13th, 2021
Bucs fans had a collective sigh of relief yesterday morning when Tom Brady reworked his contract in order to give the team 2021 salary cap relief.
The hope is that doing this will help keep the Super Bowl champions together, including their park-violating, home-invading, NFLPA-ignoring, down-forgetting, handshake-stiffing, jet-ski-losing, biscuit-baking, tequila-shooting, waffle-grilling, trophy-throwing Bucs Super Bowl-winning quarterback.
So on Brady's Instagram page after the signing, two very interesting comments were by players whose checking accounts could directly feel the impact of Brady's good deed. That would be free agents Bucs sack king Shaq Barrett and furniture-tossing, bicycle-throwing receiver Antonio Brown.
Shaq, who goes by the handle of "@Moochman6" on Instagram, replied to Brady's Instagram post. Pictured signing his new contract, Brady wrote "In pursuit of 8…LFG @buccaneers we're keeping the band together."
Shaq replied, "Yessir."
So if Shaq is leaving the Bucs, as some fear, why would he seem happy that Brady said the Band of Bucs will be back together? Remember, Shaq is a key player in the Band of Bucs on defense, maybe second only to Devin White, for his ability to chase quarterbacks.
Shaq combined for five sacks in the NFC title game at Green Bay and at home in the Super Bowl — three against the Packers, two against the Chiefs. The Bucs likely do not beat the Packers without Shaq. Against the Chiefs, Shaq chased Mahomes all over west Tampa in the only NFL game a Mahomes-led Chiefs offense did not score a touchdown.
Some people believe Shaq could pocket as much as $20 million a year if he gets on the open market.
Did Brady's move give the Bucs just enough Team Glazer loot to keep Shaq, hence Shaq's delight at the Brady news? Reports suggest Brady's new contract frees up some $19 million of cap space.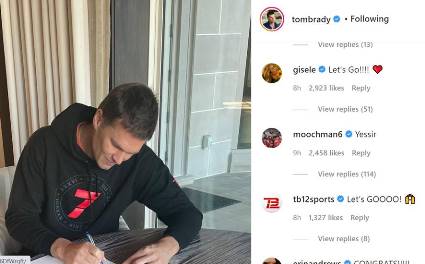 Then there is Brown. His Instragram username is "@AB." He too replied to Brady's comment. Brown didn't really write anything; he just posted four bomb emojis.
So why would Brown be happy? See above.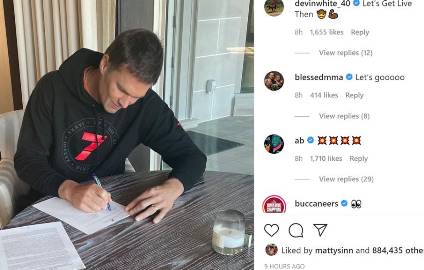 Joe has no idea if Shaq and Brown are just happy for their teammate or because they see dollar signs flashing in their eyes with a better chance to stay with the defending Super Bowl champs.
Feel free having fun letting your imaginations run wild.
(Thanks to various readers of JoeBucsFan.com who pointed out Shaq and Brown's responses.)