Is Nacho Next?
March 15th, 2021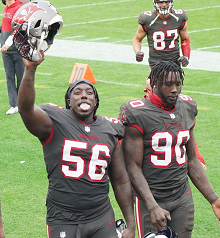 The Shaq-is-back ecstasy hasn't worn off, but Joe is greedy.
Every Bucs defensive starter is now set to return except for free agent Ndamukong Suh. Hopefully, the Bucs can lock him up today, just like they did with Shaq.
If they can't do a hurry-up deal with Suh — and Joe expects Suh is in no hurry — then Joe wonders if the Bucs quickly will turn their attention to defensive tackle Rakeem Nuñez-Roches, aka Nacho. He was pressed into major action this season (11 starts) when Vita Vea broke his ankle in October.
Nuñez-Roches, 27, was up for the challenge. Always uncensored savior linebacker Devin White even boldly said Nacho was as good as Vea.
"You know, I don't feel like we took a step back when we lost Vita. I feel like Nacho was still the same impact guy," White told Joe. "I felt like he held up in the run game. I feel like whatever we called on him to do, he did it. So I gotta give it to my guy Nacho, big No. 56."
He's no lead singer, but Nuñez-Roches is definitely a member of the "band" the Bucs keeping talking about bringing back. Defensive line depth should never be underestimated or underappreciated.