Agent Ndamukong Suh Has Special Privileges
March 15th, 2021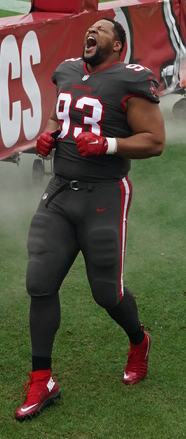 Pending Bucs free agent Ndamukong Suh is his own agent, and that fact gives him special privileges under NFL rules.
When the official tampering/negotiation window opens today at noon, Suh won't be like other unrestricted free agents that are free to work a new contract with a new team. Because Suh will represent himself, he is able to talk directly to coaches. For other guys in Suh's shoes, only their representatives can talk to teams and explore opportunities until Wednesday at 4 p.m.
So Suh gets a leg up.
For example, if Kliff Kingsbury wants to do a Zoom call with J.J. Watt to pitch Suh this afternoon, or Chucky wants to give Suh a maniacal speech, or Kevin Stefanski wants to push Suh to ring chase with the beastly Browns, that can happen today.
Suh has said publicly he wants to return to Tampa, and the Bucs want him back. But Joe is confident Suh will be making a business decision.
Suh waited out the first wave of free agency last year and re-signed with the Bucs on March 26. In 2019, he first signed with the Bucs in late May.
Does Suh have leverage? Well, consider that few players in NFL history have earned as much money as Suh. He was the No. 2 overall pick in 2010, back when rookies made a fortune and there was no rookie wage scale. Suh's first contract was for five years and $68 million. Then came $60 million guaranteed from the Dolphins and good money in Los Angeles and Tampa.
So Joe thinks it's fair to suggest Suh might not be in any hurry to sign an inexpensive contract, considering his investment earnings alone easily could be eight figures this year.
Regardless, Joe would wager a few bucks that Suh is back for a third Bucs season, though making it happen might force the Bucs to cut/trade someone.
---
Enjoy the latest Ira Kaufman Podcast, presented by Bill Currie Ford.