Todd Bowles Explains Tom Brady's Effect On The Bucs Defense
February 1st, 2021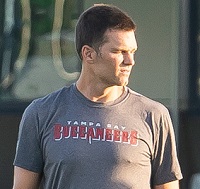 Last week, Bucco Bruce Arians opened Joe's eyes when he made a bold statement about Tom Brady's effect on the Tampa Bay defense.
Joe asked defensive coordinator Todd Bowles about that today.
Here's the verbatim exchange:
JoeBucsFan.com: Coach, just last week Bruce Arians said that Tom Brady has had as much of an effect on the defense as he's had on the offense. Can you give some insight into what Coach Arians might be looking at there or what you've experienced from Tom Brady's effect on your defense?

Todd Bowles: Just talking to the guys coming out to practice and after practice, just monitoring how they mentally feel after plays and how they look after plays and just talking football. And just really from a performance standpoint, when they see how hard he works and everything he does, and as diligent as he does it, nobody wants to let anybody down. So those guys work harder from that standpoint. You don't want to get embarrassed at practice having Brady pick on you every day. So you better pick your game up. I think a lot of that part has carried over to the defense and made them more accountable.
Very cool. Interesting how Bowles said Brady monitors the mentality of the defensive backs and their body language.
Impressive stuff. And what a bonus it is that Brady has no plans to retire and can continue grooming the young secondary and Devin White.