Todd Bowles' Angry Workers
February 8th, 2021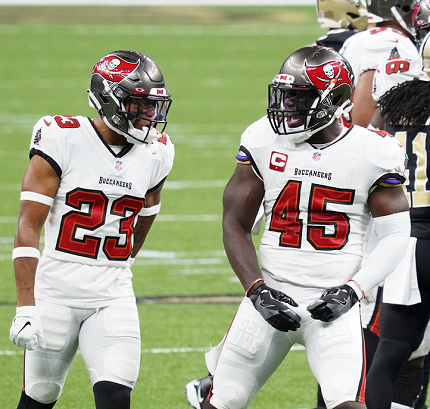 Former Bucs head coach Raheem Morris used to say he wanted "angry workers," meaning perpetually pissed off football players.
The Bucs had plenty this season.
The young defensive backs never quite got over the preseason NFL Network report that ranked Bucs cornerbacks as 32nd-best in the NFL. Players mentioned that through the season at various times, including last month.
And then there's savior linebacker Devin White, who thinks he's the greatest linebacker in the NFL playing for a bone-crushing defense. And not only does White want everyone to know it, he wants the love to flow to him and the Bucs from around the world. When White doesn't get it, he gets fired up.
It's an edge that matters, defensive coordinator Todd Bowles told NBC uber NFL insider Peter King after the Bucs' blowout Super Bowl win.
"My guys were pissed off," Bowles [said] an hour after the game.

"The biggest thing they do is read and they got TV all the time. Nobody picked us and gave us a chance to win. They were really pissed off about that. Combine that with the things we missed the first game against them, they really wanted to prove something tonight on the biggest stage against the best team. They played Drew Brees with [Michael] Thomas and [Alvin] Kamara. They played Aaron Rodgers with [Aaron] Jones and [Davante] Adams. Now they faced Mahomes with Kelce and Tyreek. You know, we earned it. We beat three of the best, the top five in the league."
The funny thing is that plenty of media did pick the Bucs to beat the Chiefs, including Joe. It wasn't the majority, but the voices were out there. Bowles, however, apparently didn't catch a whiff of Bucs believers and neither did his players. If that's true, then what a stroke of luck it was, because Bowles told King that made a difference.
"It was crazy to us that we were still underdogs," White told King. "We defeated Drew Brees, we defeated Aaron Rodgers and then, like, he was the MVP and we still was underdogs. We were just out there like finish them, finish them, finish them. We didn't want them to score."
Cornerback Carlton Davis emphatically expressed his anger about the Tyreek Hill overhype after the Super Bowl win.
Joe sure hopes the Bucs defense finds a similar rallying cry next season.
It's going be damn hard to do after turning in the greatest defensive performance in franchise history.