The Goat Pregame Address; Tom Brady Talks Honor
February 8th, 2021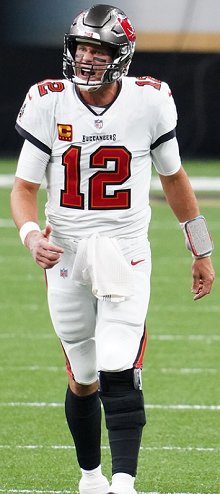 So what did Tom Brady say, if anything, to his Buccaneers before yesterday's Super Bowl hammering of the dazed and confused Chiefs yesterday?
Joe's got an answer.
Ndamukong Suh was a guest on CBS This Morning and, of course, he was asked about the Bucs' thrilling win, Suh's first Super Bowl "W."
Suh is big-time happy and said Tom Brady owed him after taking one from him two years ago when Suh played for the Rams.
The iconic defensive tackle was asked about Brady and offered a peak into Brady's pregame address to the team. It left a mark on 34-year-old Suh, who is a very savvy and sophisticated cat, and not the easiest to impress.
"Tom is an incredible leader. I wish you guys could have been in that locker room at the beginning of that game, just how he talked about honor and the ability to win this game and the people around you and yourself will be honored for years to come and forever more," Suh said.

"And so it was exciting to have a guy like that to be able to have that type of speech and know he's been in those situations before. So you really take it to heart and know what to do and go out there execute. I mean, he's one of the most humble guys and the ultimate competitor."
Joe hopes the Bucs' in-house video team got ahold of that speech and it's part of a cool video later this month.