The Bucs' Super Bowl Offensive Line
February 7th, 2021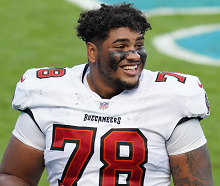 No-name guard Aaron Stinnie has four playoff starts and a Super Bowl ring. And 21-year-old Tristan Wirfs has one, too.
Donovan Smith has made 98 NFL starts and is now a Super Bowl left tackle at 27 years old. Division-III legend Ali Marpet will collect a ring, and old man Ryan Jensen (29) left the great Ravens franchise to win a ring in Tampa.
Joe is so proud of the offensive line. They earned it, with a ton of doubters along the way.
How many Bucs fans said to move Donovan Smith to right tackle, or to guard, or wanted to vomit when the Bucs' re-signed him before the 2019 season?
Bucs management messed with Marpet's position before they allowed him to settle in and become a dominant left guard.
Jensen overcame a subpar 2018 season, his first with Tampa Bay, and soon after let everyone know he wasn't a free agent who came here to just collect a check.
The Bucs coach their offensive line in a unique way, and it's all added up to brilliance. They won the Super Bowl tonight with a balanced attack that only thrives because the line is top shelf.
General manager Jason Licht, a former college offensive lineman, deserves so much credit for this deep unit.
Just don't pass the ball to Joe Haeg again! 🙂