"He Doesn't Micromanage Anything We Do"
February 5th, 2021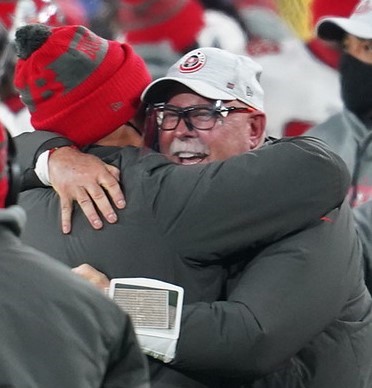 Before Joe gets rolling, please understand that Joe isn't bashing Bucco Bruce Arians here.
The post is about the unique CEO-style of head coach Arians.
He hired the biggest staff in the NFL last season, nearly all guys he knew. Arians went public saying he doesn't "hire strangers in my office" and he's not into coaching up coaches like he used to be.
Arians trusts veteran defensive coordinator Todd Bowles implicitly with the Bucs defense, and he famously said recently, "I don't do sh**, really," with the offense.
"The expectation was set years ago [in Arizona]. … He doesn't micromanage anything we do," assistant head coach/co-offensive line coach Harold Goodwin said this week.
Also, this week, on SiriusXM NFL Radio, Arians detailed the extensive game-plan prep that former Colts and Steelers offensive coordinator Tom Moore provides Byron Leftwich at the start of each game week. Arians made no mention of his role — or non-role in that.
Arians also said this week that he doesn't make speeches, and fans heard long ago about how he refuses to do Zoom/virtual coaching either.
What a gig!!
Joe believes Arians really is hands off except when it comes to the big decisions, such as choosing active personnel, and basic in-game management. Most of his time, it seems, is spent on relationships and as a scrutinizing force in practice.
Joe thinks what Mike Evans said this week about talking to Arians daily offers a lot of insight.
Obviously, it's working. But perhaps more important, it also is a recipe for Arians coaching many more years.