Expect Jordan Whitehead, Antoine Winfield, Jr., And Lavonte David To Play In The Super Bowl
February 5th, 2021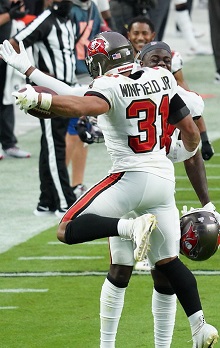 Hallelujah!
The Bucs are getting healthy in a hurry. Very healthy.
In today's final pre-Super Bowl injury report, only two players are listed as questionable: furniture-hurling, bicycle-unfriendly Antonio Brown (knee) and Cameron Brate (back).
It's awesome news, because that means Lavonte David (hamstring), Jordan Whitehead (knee) and Antonine Winfield Jr. (ankle) are ready to roll. Hopefully, those three were completely honest with trainers and team doctors about their conditions.
It won't help the Bucs if Whitehead's shoulder pops out on his first big hit and Winfield and David are playing a step-and-a-half slow.
Damn, this is all great news.