Mike Evans Explains How Bruce Arians "Takes Care Of Me," Sheds Light On Past Bucs Coaches
February 2nd, 2021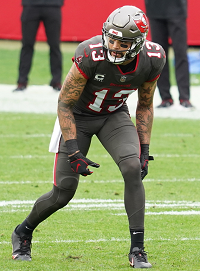 It sounds like Mike Evans wasn't the biggest fan of Lovie Smith and/or the head coach version of Dirk Koetter.
Or perhaps Evans just thinks Bucco Bruce Arians is that much better than his predecessors when it comes to communicating and managing players.
Evans joined SiriusXM NFL Radio yesterday and talked about the impact Arians has had on him.
The full response was an interesting take.
"Oh, he's done a lot [for me], man. He takes care of me." Evans said of Arians. "You know in practice, if I'm having a long day in practice, he'll be like, 'All right, Mike, you can sit out these last couple of plays. You got your work in; you're done.'  He wants us to have the best careers possible. You know, he's not trying to run us into the ground. He's just a fun guy to be around, a fun coach to be around.

"He's not like your average coach. Because some coaches, you probably barely even talk to them. Head coaches, not a position coach, some head coaches you'll talk to them maybe once a week, once every two weeks. [Arians and I] talk daily. He's a great role model and he's an unbelievable coach."
Evans played two seasons for Lovie Smith and was Lovie's No. 7 overall pick in the 2014 NFL Draft. Are we to believe Lovie didn't talk to his young star more than two or three times a month? Evans was just 20 years old when he was drafted.
And what about Koetter? He was adamant that he had a true hands-off approach to the Tampa Bay defense. So he was all about offense. Under Koetter, Evans was the Bucs' best offensive player and a team captain. Are we to believe Koetter only talked to Evans a few times a month?
Joe is so glad The Lost Decade of Bucs football is over.