Bucs, Fans Will Celebrate "Win on the Water"
February 10th, 2021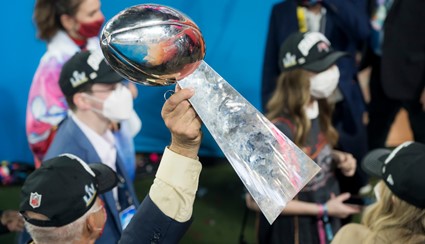 Just as sports anchor Kevin O'Donnell of WTVT-TV Channel 13 predicted, real recognizes real.
Parades cannot be real parades in a pandemic. But the Tampa Bay area has something many cities do not: plenty of waterways away from people. So just as the Tampa Bay Lightning did when they won the Stanley Cup last summer, the Bucs will take to the water to celebrate winning the franchise's second Super Bowl.
The parade will take place along the Tampa Riverwalk tomorrow beginning at 1 p.m. The route will be between Armature Works winding around Harbor Island and Sparkman Wharf. Boaters may be in the water but must remain 50 feet from the parade vessels. Joe assumes that means jet-skis, too. Boats cannot join in the parade.
Take care of yourself out there. Officials warn the mask police will be in full force. Mask up!
And have some freakin' fun! Make your friends really jealous up north as they brave frigid temperatures in a polar vortex while Bucs fans enjoy a boat parade in sunny, summer-like conditions.
Map below courtesy of Buccaneers.com.