Boat Parade Wednesday?
February 9th, 2021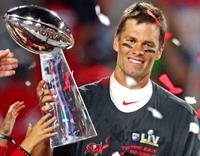 It seems the Bucs are going to take a page from the Tampa Bay Lightning.
You know, real recognizes real?
Because of The Sickness, folks get wigged out about crowds. So when the Lightning won the Stanley Cup this past summer, rather than having a traditional victory parade, the Lightning held a boat parade. The photos were cool as hell with the setting Florida sunshine gleaming off the Stanley Cup on the bow of vessel.
It seems from WTVT-TV Channel 13 sports anchor Kevin O'Donnell, the Bucs will emulate the Lightning and give the Vince Lombardi Trophy a boat ride down the Hillsborough River.
I have learned the City of Tampa is working on plans for a Bucs boat parade on Wednesday. Details are still being finalized. Date and time has not been agreed upon on yet. Officials are hoping to iron everything out and make an announcement tomorrow. #GoBucs

— Kevin ODonnell Fox13 (@ODonnellFox13) February 8, 2021
Joe just hopes this is done in the late afternoon so when the sun is setting there can be epic photos of the Vince Lombardi Trophy shining brightly in the Florida sunshine.