Shaq's Value In The Spotlight
January 3rd, 2021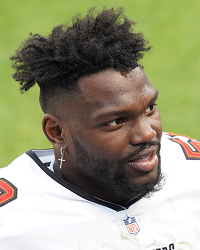 Joe suspects Oily Drew Rosenhaus, agent of Bucs edge rusher Shaq Barrett, was very pleased by what he saw today on the field formerly known as the Den of Depression.
Matt Ryan attempted 44 passes and the Bucs only dropped him once, and Ryan was averaging nearly three sacks absorbed per game. He was hit just six times, which is a comfortable day for the statue-like veteran, who finished 29-of-44 for 265 yards and two touchdowns.
Notice how Jason Pierre-Paul didn't look like the Pro Bowler he is without Shaq?
Shaq is expected back for the playoffs after missing today's game on the NFL's COVID-19 reserve list. Word buzzing last week was that Shaq wasn't infected and only was a "close contact," per NFL guidelines.
Joe loves that Shaq got a day off and the Bucs still won. That's a major positive. But Joe's also a little bummed out that Anthony Nelson couldn't step up.
In some ways, this was a quite a day for Shaq, who is eager for a whopper of a new contract after being tagged as the Bucs' franchise player this season. It was on full display that the Bucs desperately need what Shaq delivers.