Today Is Why Bucs Got Antonio Brown
January 3rd, 2021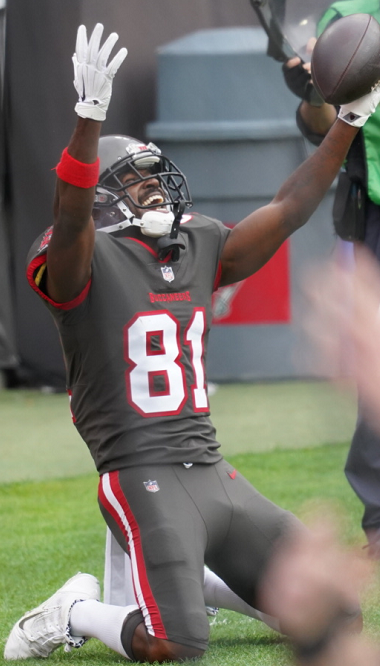 Look, Joe was suspicious when the Bucs signed furniture-tossing, bicycle-throwing receiver Antonio Brown.
Maybe an hour after the Bucs beat the Dixie Chicks to clinch the No. 5 seed in the NFC playoffs, it's easy for Joe to understand fully why the Bucs signed Brown.
Joe was worried about team chemistry with Brown around. The guy is an All-World talent and was on his way to the Pro Football Hall of Fame before he lost his damn mind.
When Mike Evans injured his knee in a wet end zone of the Stadium on Dale Mabry Highway, it became obvious why park-violating, home-invading, NFLPA-ignoring, down-forgetting, handshake-stiffing, jet-ski-losing, biscuit-baking Bucs quarterback Tom Brady wanted Brown so bad.
With Evans on the shelf, Brown (and Chris Godwin) went nuts today. Brown easily had his best day for Tampa Bay, and he even had one of his highlight catches in the corner of the end zone just like the old days.
After the game, Bucco Bruce Arians explained he wasn't too worried about who would pick up the slack for Evans.
"We have weapons," Arian said. "But obviously, Mike is special."
Arians said Evans reminds him of Vita Vea, he is so good that he is two players wrapped up in the body of one.
Brown ended the game with 11 catches for 138 yards and a touchdown.
And, oh by the way, to the best of Joe's knowledge, Brown has behaved very well since joining the Bucs. Joe is sure as hell glad the Bucs have AB now.
Wow!! Toss a couch!!!

— JoeBucsFan (@JoeBucsFan) January 3, 2021
Don't look now, but…

Antonio Brown with a TD in 3 straight games

👀👀👀 pic.twitter.com/kawucaRKLZ

— NFLonCBS (@NFLonCBS) January 3, 2021