Fresh Legs For The Playoff Push
November 30th, 2020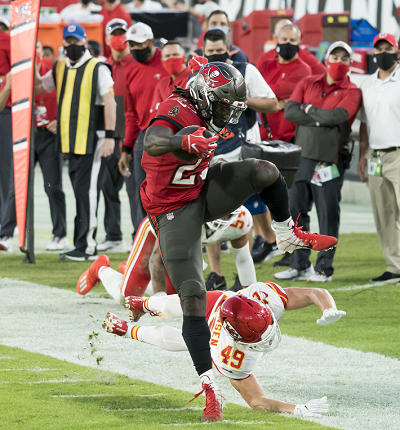 They made it!
The Bucs have arrived at their December bye with an upright and firing Tom Brady, a healthy starting offensive line, low mileage on their young running backs and a stable of healthy Pro Bowl receivers. Plus, Jason Pierre-Paul looks fantastic and Rob Gronkowski is peaking and hasn't missed a game.
There have been very troubling aspects of Buccaneers coaching this season, but Joe has to give Bucco Bruce Arians a standing ovation for getting his team to the money stretch of the season in such great shape physically.
Some of it's luck, but Arians also is extremely focused on keeping veterans fresh and deserved credit.
For a "really tired" team (Arians description last week), the Bucs sure looked like they had plenty of juice and hunger against Kansas City. The shortcomings were mental, coaching and matchups, as Joe sees it, but at least the team had plenty of gas in the tank against the Super Bowl champs.
Now the Bucs get a week off. Only the Bucs and Panthers have a Week 13 bye. Every other NFL club has had its bye, and no team had a Week 12 bye.
Yeah, Joe knows the Vita Vea loss (broken leg) was significant, but the Bucs are extraordinarily healthy by NFL standards. And that sets them up for an absolutely zero-excuses date with the Vikings on Dec. 13 at the Den of Depression. Under no circumstances will a loss be acceptable.
Everything will be on the line. Everyone should be fresh and ready. A three-game home losing streak and a 7-6 record for this roster of talent would send Joe into a complete mental breakdown. It can't happen.