Protecting RoJo's Confidence
September 7th, 2020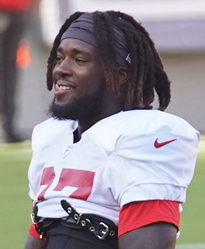 Joe wrote last year about Operation RoJo, a choreographed effort at One Buc Palace to prop the confidence of second-year running back Ronald Jones.
Bucs officials and Jameis Winston started talking up RoJo in April of 2019, and it felt like his every move in underwear football was celebrated to the extreme.
In October, it really was magnified. RoJo was, at the time, the 17th-leading rusher in the NFL. And Demar Dotson, who had seen it all as a Buccaneer since 2009, said twice that he was impressed by how coaches were working on the mental side of Jones.
""I think the coaching staff is doing a good job of putting that confidence in his head," Dotson said.  A minute later Dotson added, "I mean they just putting so much confidence in that kid and you can see him, you know, growing from it."
Indeed in worked. RoJo went from garbage rookie to productive running back. But Bucco Bruce Arians only gave RoJo 80 carries in the final eight games and then said third down is not for RoJo.
Then in marches LeSean McCoy and Leonard Fournette, plus Ke'Shawn Vaughn in the draft — all while Arians keeps saying it's RoJo's No. 1 RB job to lose.
Joe wonders about RoJo's confidence and how the Bucs will manage it. It smells like it could be a huge challenge. RoJoe was a mentally fragile/immature rookie, Joe was told many times in many ways.
Frankly, keeping RoJo on the right track could be a key to the season.