Tom Brady Talks Dare Ogunbowale And The Playbook Next To His Bed
August 20th, 2020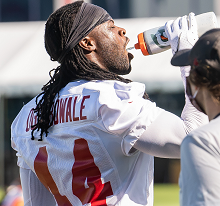 Tom Brady was talking yesterday. Joe's already typed up a lot of what he had to say.
But there's more.
The most successful quarterback in NFL history was chatting his his former teammate, Jim Miller, and former Jets linebackers coach and personnel chief Pat Kirwan yesterday on SiriusXM NFL Radio. Brady talked about his grind of keeping a playbook "right next to my bed" for months after landing with the Bucs. And Brady shared how it's a massive transition from books to full speed training camp "and reading body language."
Interestingly, Brady said he's still working hard with Byron Leftwich and Bucco Bruce Arians to get on the same page when it comes to what the offense must do to win football games.
Brady emphasized, as he has previously, that there are many successful ways to march a team down the field and while they've all been successful independent of each other, they have "to come together."
Bucs fans already know the running backs competition is heating up big time. LeSean McCoy is turning heads. T.J. Logan got mad love from Arians and Ronald Jones is, per Arians, expected to carry the load. But Brady gave a lot of support to Dare Ogunbowale yesterday.
"He has done a great job as a leader of the group, leader of special teams," Brady said of Ogunbowale, adding that he "plays a big role on offense"
At this point, the only thing Joe expects at running back is a short leash for whoever is playing. If you're having a bad half, expect to be replaced.