LeSean McCoy Is Turning Heads
August 19th, 2020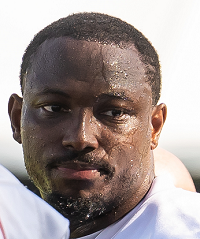 Devin White was gushing this morning.
And so was Bucco Bruce Arians.
JoeBucsFan.com: Coach, LeSean McCoy, does he look like Shady McCoy of four or five years ago? How would you tell fans he looks?
Bruce Arians: I think he looks fantastic. You know, when you look at his tape from last September, October, he was still Shady. He looks like the same guy. He made a couple of great moves today, especially on a route 1-on-1 versus a linebacker. So yeah, he looks good. We just got to make sure we keep him fresh.
Joe asked Devin White about what he's learned from covering McCoy in practice and the Bucs' savior second-year linebacker could barely contain himself.
"(Laughs a few times) Man, I learned what is a great player that I had seen on television, on the Internet and highlight tapes over and over," White said. "And I told him, 'Every day we step out there, your'e going to make me a better linebacker because you bring an aspect to the running backs as yourself, like because you do everything different.'

"The guy even hold the ball different. So, you know, he just makes me a better player. Today I had him in space and, you know, if you ever get a chance to talk to him, he'll tell you how good I can cover.

"He's just like an Alvin Kamara. So he's kind of prepping me for the first game, as well. You know I take everything from my teammates and try to compare them to the next team and try to base my leverage and everything off them."
No, Joe isn't ready to predict a seventh Pro Bowl season for McCoy, but it's very encouraging that he looks sharp early.
If the Bucs can squeeze even a couple of old school Shady games from him, that could be the difference between making the playoffs or even a division title.