Update On Club Vita
August 20th, 2020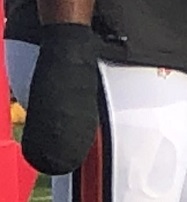 Vita Vea's offseason hand surgery left him clubbed up to start the hitting sessions of training camp.
Today, Bucco Bruce Arians clarified that it's not a season-long measure, one that could have affected Vea.
"Just protective," Arians said of the club, adding it would be off soon.
Joe was fired up to hear this during Arians' post-practice news conference. Sure, lots of guys in NFL history have played defensive line well with a club, but hands are important and Joe didn't want to see Vea waste time and focus compensating for the bad hand.
None of this is unexpected, but surgery recovery is always uncertain. Joe will pour a cold Big Storm beer momentarily.