Another Tampa Hall Voice For John Lynch
August 27th, 2020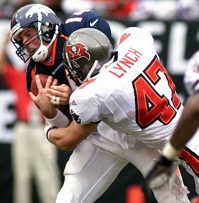 Calm down, haters.
Sage JoeBucsFan.com columnist Ira Kaufman has not been replaced as the official Tampa-area representative among the esteemed Pro Football Hall of Fame voters.
In fact, Ira actually is member of the Senior/Coach Selection Committee in addition to his regular panelist duties.
But another Tampa voice officially is now part of the Hall as of today. Tony Dungy (aka Father Dungy) was named an at-large media selector via his NBC affiliation.
So maybe, just maybe, legendary Bucs safety John Lynch is voted into the Hall of Fame in February, during the annual gathering of esteemed voters the day before the Super Bowl. It also won't hurt that Bill Polian, the retired Hall of Fame general manager, was added to the selector ranks earlier this year. Polian has deep knowledge of the Tampa-2 defense and understands Lynch's value.
Allegedly in February, Lynch was only a vote or two from getting in. It was his seventh consecutive year as a finalist, which is a rare streak.