Do Not Fear The Unknown Kicker
August 28th, 2020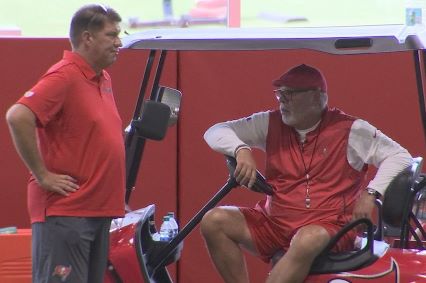 Joe plans to resist the easy one-liners and stay focused on the importance of this post.
Bucs fans are well aware that the team's kicking situation has been a circus act no Hollywood script writer could have crafted since Connor Barth blew out his Achilles playing basketball before the 2013 season.
Barth drilled 93 percent of his Bucs field goals in 2011, and then was strong with 85 percent in 2012, including 6-of-9 that year from 50-plus yards.
And then came the well-documented mess that currently features second-year Buccaneer and fifth-round draft pick Matt Gay, who is coming of a shaky season, against newcomer Elliott Fry. Neither is having a great training camp and Fry seemingly holds a slight edge in the battle if you read between the lines.
So now what?
Well, Joe is not panicking, and Joe does not fear Fry (other than because of Bucs history). Yes, Fry is an unknown outside of his time at the University of South Carolina, bouncing around the offseason rosters of the Bears, Ravens and Panthers, and his 14-of-14 kicking in the defunct AAF. But many, many teams have succeeded by scooping up no-name kickers and giving them a chance.
Ironically, look at the world champion Chiefs. Kicker Harrison Butker was plucked off the Panthers' practice squad in 2017 (the year the Bucs hired another new kicker) and he has made 90 percent of his 107 field goal attempts ever since.
There are so many examples.
Pro Bowl Saints kicker Will Lutz was undrafted in 2016, the same year the Bucs drafted Roberto Aguayo in Round 2. The Ravens cut Lutz after training camp and it's been happily ever after for New Orleans. In 2018, Lutz made 93 percent of his field goals and was a machine-like 89 percent last year.
The Falcons needed a new kicker last season and found their way to Younghoe Koo, another AAF kicker who was rejected by the Belicheats after flopping in his shot with the Chargers three years ago. Koo earned a new contract after nailing 23-of-26 field goals in half a season with Atlanta.
Look at the Panthers and Joey Slye. He went undrafted in 2018, and tried out for the Bucs but didn't make it. The Panthers gave him a shot last season because Graham Gano was hurt. Slye had an extremely similar rookie season to Matt Gay, except Slye made 10 of his final 11 field goals while Gay struggled late.
Joe could go on and on.
There should be no fear of Fry at One Buc Palace. If he wins the job in camp, let him roll with it. Same for Gay.
Joe just hopes the Bucs' power players don't have any allegiance to Gay because of his draft status. Just go with the best kicker or sign someone else like other teams do successfully.