Thursday Practice Notes
August 27th, 2020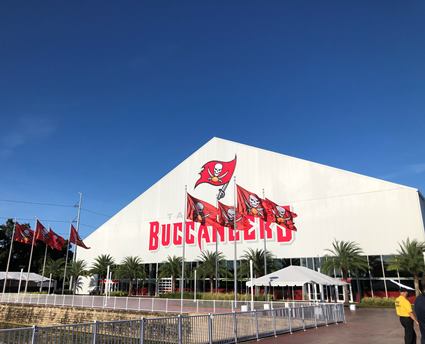 A return of a Bucs star and the projected No. 1 running back looking like a No. 1 running back highlighted today's practice at One Buc Palace. Let's get after it!
* The Bucs seem to be either trying to soften up the middle of their defense (unlikely) or see if Ronald Jones can be Mike Alstott. He's getting a lot of carries up the gut and he's not failing, albeit it's only two yards a crack.
* Dare Ogunbowale runs off tackle for six yards.
* Finally RoJo breaks through up the middle for a huge gain of 20 yards.
* Ogunbowale for eight yards running around left end.
* Ke'shawn Vaughn off left tackle for maybe a yard. He's not having a great camp (not awful though) and Joe wonders if losing time early related to the COVID put him behind the eight ball?
* Blaine Gabbert fumbles a snap, recovers it, hands the ball off to Vaughn who loses two yards.
* Tom Brady hits Rob Gronkowski in the right flat and he rumbles for maybe a dozen yards.
* RoJo turns the left corner and gains four yards.
* Ogunbowale with the first team gets two yards on a run to the inside of Ali Marpet.
* Big gain by Mike Evans. Hauls in a pass from Brady along the right sideline for about 25 yards.
* Brady throws low to Cam Brate along the left sideline who scoops the ball up for a 15-yard gain.
* RoJo runs through a massive hole on the left side for a 15-yard play.
* This is the first bad Brady pass Joe has seen this summer and it is Aug. 27. Brady throws to the left side about 10-15 yards downfield and the ball falls to the ground. There wasn't a Bucs receiver anywhere near the ball. Somebody wasn't on the same page.
* Brady hits Ogunbowale on a short pass to the left for a few yards.
* Evans grabs a line drive from Brady over the middle for a 20-yard completion.
* Brady takes off and runs up the middle but the play was dead. Had it been a game Brady would have been sacked as the defense surrounded him.
* RoJo runs left for eight yards.
* Vaughn had a nice catch from Gabbert for about 15 yards and had he not fallen to the ground, D'Cota Dixon looked like he was in the process of clotheslining him. NFL stuffed suit Roger Goodell doesn't like clotheslines in his game. Sad.
* This is interesting. During a water break, Bucco Bruce Arians pulls up in his Bucco Bruce mobile and has a chat with linebacker Devin White.
* Linebacker Jack Cichy skies high and nearly picks a Gabbert pass.
* In seven-on-seven drills, tight end Tanner Hudson makes a nice catch along the left sideline from Gabbert for about 12 yards.
* Brady throws deep for Evans along the left sideline but the two can't make a connection.
* Practice is in its last half-hour and it is starting to get toasty. Really toasty. After going through offensive line drills, a group of backup offensive linemen are walking back to the main field to join their teammates watching the seven-on-seven drill. Man, are they gassed. Talk about dragging arse. They can barely move. They look like they are about to pass out they are so drained.
* Brady hits Chris Godwin deep over the middle. Yes, Godwin practiced today after two straight days off.
* Brady threads the needle throwing to Justin Watson on the left seam, right between two defenders.
* Same spot only deeper, Brady rifles a line drive to Brate for big yardage.
Shaq Attack! pic.twitter.com/6cTmDlYyFu

— JoeBucsFan (@JoeBucsFan) August 27, 2020