Potential Donovan Smith Fines For Skipping Training Camp
July 13th, 2020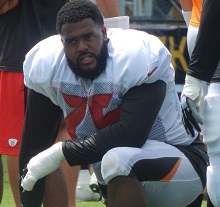 Yes, it's likely every NFL player soon will have an option that lets them make a now-or-never decision to skip the entire 2020 season because of concerns related to The Sickness — and remain unpunished by their teams and the league.
But suppose a veteran player just wants to skip training camp?
It's rare to see training camp holdouts because they are very expensive. However, they're much more likely this year because players have more than just money on their minds.
Enter Bucs left tackle Donovan Smith. He's publicly stated that he might not want to be "a lab rat" and risk catching the virus because he expects a baby due at the end of July.
So perhaps Smith will just show up a month late to collect his guaranteed $16 million for this season. Bucs veterans currently are expected to report to camp July 28. Tampa Bay's regular season opens Sept. 13.
Joe was researching penalties for holding out of training camp and found this from CBS Sports, tied to the old labor agreement.
The penalties under the CBA are much more severe in training camp, which are an effective deterrent for most players. A team can fine a player a maximum of $30,000 for each day of training camp he misses. A player who signed his contract as an unrestricted free agent can be fined one week's base salary (1/17 of salary) for each preseason game missed in addition to the $30,000 per day. A year of service toward free agency isn't earned without a player reporting to his team at least 30 days prior to NFL's first regular season game (Aug. 5 reporting date this year).
For the purposes of discussion, let's say training camp opens on time and Smith decides to report Aug. 14 — 30 days before the regular season opens but 17 days later than he was supposed to. That would cost Smith a maximum of $510,000 based on the parameters above (and the Bucs could choose to fine him a lot less).
That's not exactly a lot of money when you're in Smith's pay grade.
Joe has no clue how Smith will proceed, but Joe would bet a few bucks that Smith isn't there when the team reports. Joe also would wager that Smith doesn't opt out on the season and all that cash.