"I Won't Make That Team"
July 13th, 2020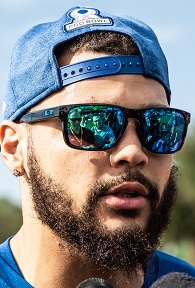 It's always fun when a couple of NFL legends have fun on Twitter, and extra fun when one is a Buccaneer.
Mike Evans knows all about Randy Moss, and vice versa. They've trained together and forged a relationship soon after Evans landed in Tampa. So it's no surprise that Moss was quick to tell Tom Brady the other day that Brady should cool it with inviting Moss to join the Buccaneers.
Brady shared a career memory on Twitter (see below) that led to him playfully poking Moss about coming to Tampa. Moss responded that he wouldn't make the squad.
Sun nite in Buffalo??4tds in the 1st half!We all rocked that nite!!Thanks 4 the memories TB!Really…..come tryout 4 this team??I won't make that team wit dem boys!!Ill take my memories and RUNNNNNN!❤❤❤❤❤ and miss u brother👊🏾👊🏾👊🏾👊🏾👊🏾👊🏾👊🏾

— Randy Moss (@RandyMoss) July 10, 2020
Fun stuff. And Joe is glad Moss, 43, answered the way he did. It would have been wild if he pulled a Simeon Rice, who at 43 publicly was lobbying to return to the field three years ago.