Gronk Talks Players Needing To Find A New "Source Of Energy"
July 13th, 2020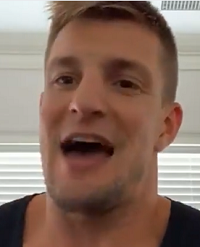 The Bucs' new Hall of Fame, $10 million tight end Rob Gronkowski says he sees a football game-changer coming just two months from now.
Gronk reported for duty last week on a web-based show for the Army & Air Force Exchange Service with host Air Force Chief Master Sgt. Luis Reyes.
No fans in stadiums this season? Gronk was asked about that possibility and agrees that it would alter his game.
"It'll change a little bit, definitely. I would say that you're going to have to find another, like, source of energy inside you," Gronk said of himself and other players. "Because, you know, having the fans there, they always get you juiced up. You can always pull some energy from the people in the crowd. But if there's going to be no fans, you gotta find another way to get that momentum going, to get that energy going."
Clear communication for offenses on the road will be a more literal game-changer, Gronk explained, noting how often it is hard for players to hear. However, Gronk said he would like it if the NFL agreed to pump in stadium noise, "so you feel like there's people in the stands."
Imagine if the NFL approves phony crowd noise — even if stadiums are at 20 percent capacity. What a chance that would be for Team Glazer to drown out the inevitable screams of Packers and Saints fans that will flood into the Den of Depression this season.
As for heading to training camp, Gronk said he's fired up, in part because he misses the camaraderie of the locker room so much. "You miss the jokes, you miss the stories," he said.