"Most Of His Teammates Won't Know What To Expect"
June 11th, 2020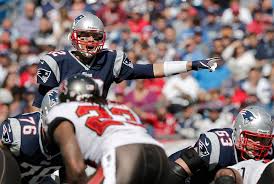 Remember when the Bucs won four consecutive games last season?
It was fun and relieving, but they didn't beat a team with a winning record in that stretch.
The Bucs were eliminated from the postseason with three games to play and were an afterthought NFL team nearly all year. That's what happens when you haven't been in the playoffs in over a decade and you open your season 2-6.
Bill Belicheat and Tom Brady operate in a very different universe. Brady hasn't lost less than 10 games as a starting quarterback — ever.
Former Belicheat advisor (2014-2016) and ex-Browns GM Michael Lombard detailed for the struggling TheAthletic.com that Brady's new teammates have no idea what's in store for them as a "hunted" club, this year's hype darling every opponent will get up to play.
He explained that Brady has lived that nearly his entire career but most of his new Bucs brethren are entering unfamiliar and more difficult territory.
…  Brady has been the "hunted one" for most of his career. He loves the challenge; he relishes the role. However, most of his teammates won't know what to expect. Playing the Lions in Week 15 on the road last year was no big deal — now every game is a big deal. The games are much different — more physical, more competitive and having a greater sense of urgency. When playing on a team that is "hunted," each player must bring his A-game or they won't last. Brady needs to trust his teammates' preparation. He will need to trust their ability to mature and take every game with great seriousness, not just the ones on national television. He will need to trust they can raise their level of play if they want to win more than seven games. That's going to be hard for him. Trust is not easy for him to give away, especially without many practice days.
On the trust front, Lombardi explained Brady is obsessed with it, which could shape the Bucs' roster.
Meanwhile, Brady would pass on the biscuit. He is risk-averse. Brady hates being sacked or giving away yards as a result of holding the ball. He wouldn't go for the green in two on a par 5 unless the odds were entirely in his favor. That does not make him wrong or inferior; it's part of why Brady has been incredibly successful. Brady is not a risk-seeker with the ball. He is surgical, precise and deliberate. Brady is meticulous with his methods, and he relies on trusting the players he is playing with to know exactly where to be at all times. Route location, route running and route perfection are critical, and trust is essential to Brady and hard to earn. If Brady lacks trust in a player, there is a good chance that player won't get the ball — even if he is open. Brady needs trust and precision to be at his best. He counts on everyone knowing their assignments and doing their jobs.
What a great opportunity for some young Bucs pass catchers. If Brady likes and trusts you, then you will play. Period. If not, expect to be traded. There won't be time for games or nonsense when the Bucs finally return to work. Heck, Justin Watson could catch 55 balls this year.
As for the Bucs needing to raise their collective play because every snap will be bigger this season, Joe agrees with Lombardi.
Are they up for it?